uTIPu – Developer of Award Winning TipCam Screen Recording Software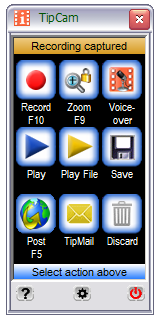 TipCam is the easiest-to-use professional screen recording software for Windows.  PC Magazine chose TipCam as one of the best software products in 2009 and described it as follows:
TipCam lets you take big, beautiful videos (up to 800 by 600 pixels)—you can even zoom in on specifics—and upload them direct to YouTube.
TipCam is the screen recording software of choice by many Fortune 500 companies yet is so easy to use because of its intuitive, iPhone-like interface.